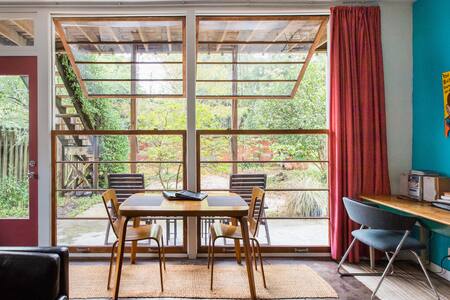 PLUS
Gestahús í heild sinni · 2 gestir · 1 rúm · 1 baðherbergi
Cabin Apartment in 1914 Carriage House Revision
If booked please see my other listing Cabin Apartment 2 under profile link. Your own private retreat in the city. An urban cabin designed as an open modern apartment. Practical elements share the space with a few timeless pieces. A galley kitchen provides all the necessities, and the extra long claw foot tub makes it complete. Floor to ceiling windows look out onto an expansive and peaceful garden with beautiful natural light all day. It is situated separately behind a 1914 colonial revival house, and both share a large wooded lot with mature water oaks. Nightly rate includes occupancy tax.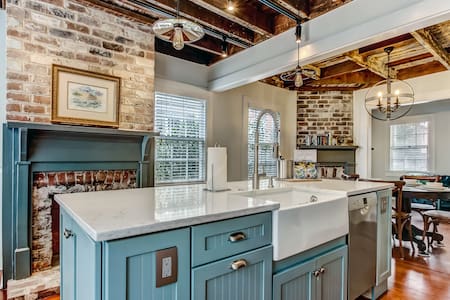 SUPERHOST
Raðhús í heild sinni · 4 gestir · 2 rúm · 1,5 baðherbergi
Perfectly Renovated Historic Downtown Home
Impeccable renovation with perfect modern amenities while still maintaining many of the historic details of this 1860 home. Right downtown, so walking to all the best restaurants, sights, and more are right outside the door! SVR-00958
Það sem gestir hafa að segja:
"Sarah er á toppnum af svo mörgum umhugsunarverðum snertingum fyrir dvöl þína frá kaffi, sykri og rjóma yfir í frábærar notalega kodda og þykk, notaleg handklæði. Hún skilur eftir sig nógu traustar, gagnlegar upplýsingar til að koma þér af stað í ævintýrum þínum. Þetta rými er nákvæmlega eins og mynd og lýst þannig að þú verður ekki fyrir vonbrigðum og þér finnur Sarah tilbúin til að svara öllum spurningum!"
Kick back on the green velvet couch around the statement fireplace with exposed brickwork in this bright condo. It's perched on the third story of a Victorian house dating from 1891. During the day, the condo is flooded with light from high ceilings and bay windows. The blackout curtains and plush king bed will help you sleep-in in the morning!