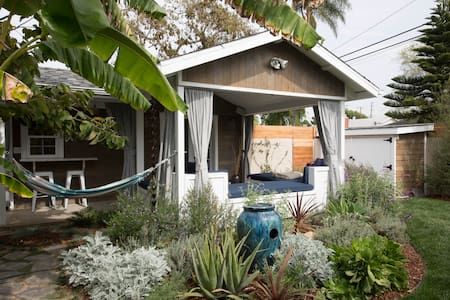 SUPERHOST
Gestahús í heild sinni · 2 gestir · 0 rúm · 1 baðherbergi
Culver Urban Oasis - Relax in Total Privacy!!
We have created this secluded urban oasis for you to unwind after exploring our beautiful city, stunning mountains, or pristine beaches. We are adventure partners who love to travel, surf, and run on trails...and to build! Relax and enjoy! NEW, Now with Air Conditioning!
Hotel style suite with full modern designer bathroom. Private entrance and space (no access to main home.) Pillow top king size mattress, 100% cotton sheets, 80" Flatscreen TV w/movies on demand, kitchenette with mini-fridge and high speed WiFi.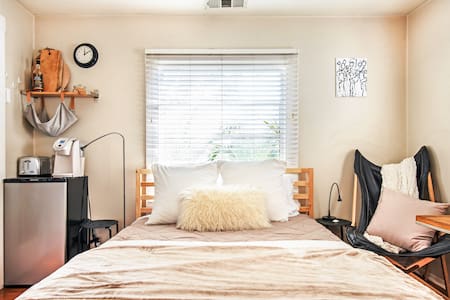 SUPERHOST
Sérherbergi · 2 gestir · 1 rúm · 1 einkabaðherbergi
Room with Own Bath by Beach & Wholefoods
Room w/ private entrance + air conditioning. Walk to beach strand/bike path. Keurig, fridge, toaster, (Netflix, amazon). Own Bath. By Wholefoods, Starbucks. Get Lyft card when booking 6 nights or more. 25 min from LAX, 45 min DTLA. Walk to Beach to Life Festival. Important note: As of Oct 1st you MUST have your Real ID card before boarding any plane. If you don't have one you will be turned away at all airports.
Það sem gestir hafa að segja:
"Angela er langstærsti AirBnB gestgjafi sem við höfum nokkurn tíma haft! Gestrisni hennar keppir með 5 stjörnu hóteli. heimili hennar er fallega skreytt með blöndu af uppskerutími, nútíma og ströndinni vibes. Mjög afslappandi og notalegt. Angela er mjög gaum og móttækilegur. Öll þjónusta í herberginu, þar á meðal háhraða interneti, ásamt sérbaði, býður upp á óviðjafnanlega þægindi. Redonda Beach og bryggja, lína með veitingastöðum og verslunum eru bókstaflega skref í burtu frá húsinu. Hermosa Beach er töfrandi og er nokkrum blokkum í burtu. Hundur Angela, Bailey er sætur, vingjarnlegur og klár! Get ekki beðið eftir að vera hjá Angela og Bailey aftur!"