SUPERHOST
Smáhýsi · 2 gestir · 1 rúm · Salernisherbergi
❤️ Secluded 1940s Romantic Tiny House on the River
Relax and escape to the peace and quiet by the Potomac river, and wake to beautiful romantic views of the river and mountains, in this romantic 200 square foot tiny house situated on 2.5 acres, 450 feet of river front land. Explore and partake of all the activities on the river and surrounding area, just 1 mile from Shepherdstown. Fish, bike, kayak, tube, or just sit by the river and watch the birds and wild life. Read by the river or in the quiet comfort of the house, w/ some wine on us.
A. DESCRIPTION This luxury cabin is nestled in the beautiful Blue Ridge Mountains, an hour from Washington DC. It overlooks the historic town of Boonsboro where you can watch the night lights twinkle from the top of South Mountain. Marvel at the view of Whitetail Ski Resort some forty miles away, or enjoy watching deer and turkey meander along the quiet gravel road. This home boasts log accents, vaulted ceilings and stone fireplaces in the living room and lower level. There are many upscale amenities particularly in the kitchen. The open great room and dining room open up to a modern kitchen with top-of-the-line appliances and a center island for meal prep and casual dining. From the great room step out to an expansive wrap-around porch with beautiful forest views and plenty of blue sky. Enjoy entertaining, grilling, dining outside on the deck, and campfires in the fire circle. There is a luxury master suite on the third level loft. It has a queen bed, wall mounted HDTV, sitting area, and bathroom with a walk-in, double-headed shower. The lower level has two bedrooms. One with a double bed and the other with two twin beds. There is a hall bathroom with a walk-in, double-headed shower, and separate lounging room with stone fireplace and HDTV. B. AMENITIES: • WIFI • HDTV with Full cable (4) • Kitchen stocked for cooking • Quality towels and linen(URL HIDDEN) ACTIVITIES: APPALACIAN TRAIL For a scenic stroll on the most famed of North American hiking trails, pick up the trail at the parking lot of the Washington Monument. RESTAURANTS •Old South Mountain Tavern – There has been an Inn and Tavern on this site for over 200 years •Dan's Tap House •Vesta's Pizza •Christies – coffee and pastry, sandwiches WINERIES There are many, but here are some of our favorites. Boonsboro MD: Big Cork Vineyards Mt. Airy MD: Linganore Winery , Black Ankle Vineyard Loudon County VA: Breaux Vineyards, Hillsborough Winery STATE PARKS Washington Monument State Park Greenbriar State Park- swimming lake Gambrill State Park Gapland State Part Cunningham Falls State Park – waterfall, swimming lake, near Camp David HARPERS FERRY WV Museums, rafting, SHEPARDSTOWN, WV Very picturesque, Great window shopping, Cafes, Potomac River FREDERICK, MD: Old Town Market Street Gettysburg Battlefield, MD (allow a full day) •Tours •Interactive museum, films •Educational Center Other Civil War battlefields Antietam, MD, Monocacy, MD, South Mountain Boonsboro SKIING Whitetail, Ski Libert(URL HIDDEN)I
Það sem gestir hafa að segja:
"Dvöl okkar á þessu yndislega heimili var yndisleg. Fallega skreytt og svo aðlaðandi, það kemur þér niður á jörðina svo þú getur slakað á og notið þessa ótrúlega heimilis. Michael var mjög hjálpsamur með tillögur um veitingastaði og víngerðarmenn á staðnum. Við erum hópur vinkvenna menntaskólans sem kemur saman í árlega "Seniorhelgi". Að tillögu Michaels hófum við helgina okkar með dýrindis hádegismat í Tap'shouse Dan. Næst var heimsókn í Springfield Manor Winery Distillery Brewery. Andrúmsloftið, maturinn og drykkirnir voru stórkostlegir. Við ákváðum líka að skora á huga okkar í flóttasal. Við völdum Escape This Frederick, þar sem það auglýsti flóttasal með 80s þema. Alveg rétt hjá okkur. Við sluppum ekki í tíma en þökk sé vísbendingunum sem okkur var gefin gerðum við okkur stolt. Helgin okkar í þessum fjallakofa var stórkostleg. Þetta er frábær staðsetning, mjög hrein og hefur allt sem þú þarft, auk þess sem þú færð frábæran gestgjafa í Michael."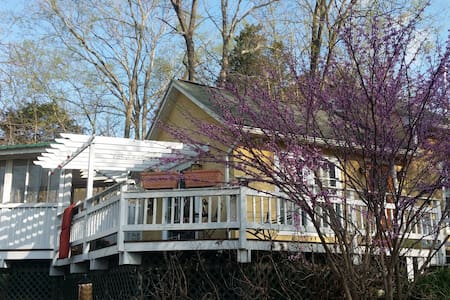 Gestahús í heild sinni · 4 gestir · 2 rúm · 1 baðherbergi
Guest house W/sauna. Hot hub removed due 2 CV.
Only 5 miles from Historic Shepherdstown. A beautiful house with one bed room (loft) and sleeper sofa with full bath, kitchenette, 4 person sauna, Stunning views from the wrap around deck, cable tv, wireless internet and private parking. There is also 5 STAR BBQ available on site! goto www.heritagesmoked.com to order prior to your visit.
Það sem gestir hafa að segja:
"Staður Karls er svo sjarmerandi og okkur þótti vænt um dvölina þar. Við vorum með þrjú hóp. Vinir mínir elskuðu risið og ég get persónulega vottað að útdraganlegi sófinn er mjög þægilegur! Karl var svo yndislegur og góður gestgjafi og samskipti voru svo auðveld. Einu vonbrigðin okkar eru sú að okkur datt ekki í hug að panta fyrirfram grillmat - örugglega eitthvað til að prófa næst þegar við erum í Shepherdstown :) Takk, Karl!"