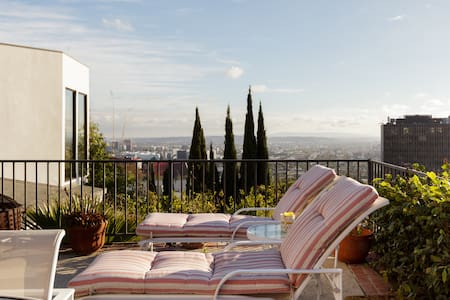 PLUS
Heilt lítið einbýli · 2 gestir · 3 rúm · 1 baðherbergi
Fab. Celebrity Area Guesthouse with Amazing Views and Pool
99.9% VIRUS FREE W/ UVC LAMP. 60 day minimum stay now. This is a one-of-a-kind guesthouse. Have breakfast or drinks on the balcony while taking in expansive killer views from city to sea, in this 40s style bungalow wing. Or after a day of exploring, gather poolside to take a dip, watch the sunset or view the city lights. Be right in the middle of a celebrity neighborhood above the Sunset Strip; walk to restaurants, shopping and clubs. We start you off with snacks and breakfast fixings for the perfect beginning to a great getaway. Utube video tour: sydsfabulousguesthouse17. 24/7 street parking.
Featured in Dwell Magazine + home tour, Curbed, Beyond the Gates, Robb Report & several other modern home publications. This breathtaking home on the Sunset Strip in the West Hollywood Hills is characterized by stunning details & modern sensibility. The home features three levels, each showcasing sweeping views of LA city line. Enjoy privacy & revel in the luxury with highlights like a steam room, ceiling-fill bathtubs, & gourmet German kitchen. Bentley Bentayga available to guests, msg 4 rates.
Það sem gestir hafa að segja:
"Þessi eign er hendur niður einn af bestu reynslu sem ég hef nokkurn tíma haft. Útsýnið er stórkostlegt og heimurinn er töfrandi og lýkur með evrópskum snertingum sem gera alla muninn. Óþarfur að segja að ég muni koma aftur. Ég vildi að ég þurfti aldrei að fara. Alveg reynsla. Mjög mæla með!"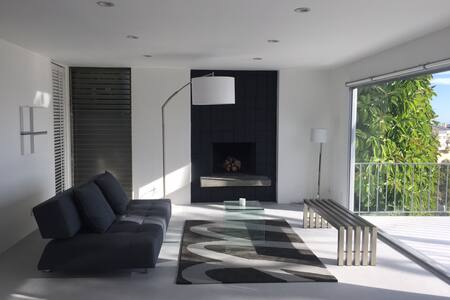 SUPERHOST
Heilt hús · 4 gestir · 2 rúm · 1 baðherbergi
City to Ocean View Sunset Strip Hollywood Hills
Whether it's the nightlife, fashion or food that attracts you, there is no better place to live it up while exploring it all. Situated at the top of the West Hollywood Hills Sunset Plaza area, minutes from the Sunset Strip, this remodeled modern pad has an unrivaled views & floor-to-ceiling windows. Enjoy breathtaking views of Los Angeles skyline to Pacific Ocean's Catalina Islands, all from your living room/big balcony! Dimmable lights, Bluetooth speaker, free parking. Your dream stay awaits!
Það sem gestir hafa að segja:
"Heimilið var glitrandi hreint og búið öllu sem við þurftum og fleira. Þægileg rúm, með auka kodda, teppi og handklæði. Nóg pláss fyrir fötin þín og farangurinn. Stórt baðherbergi og sturtu. Myndir gera ekki þetta hús réttlæti, það er alveg fallegt með töfrandi útsýni. Þetta var lang besta AirBNB okkar til þessa. Fasteignasali, Shea, var frábær! Hún fór virkilega umfram það að gera dvöl okkar að 5 stjörnu upplifun. Takk aftur fyrir gestrisnina!"