Enjoy million-dollar "trail map" views of the 10 mile range, Breckenridge ski area & the town of Breck from this beautifully remodeled Boreas pass condo. Located 2 miles from town with free shuttle. One bedroom and pullout couch sleeps four total.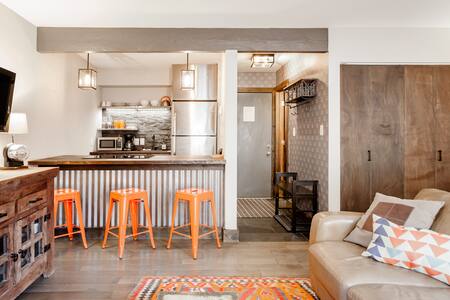 PLUS
Heil íbúð (condo) · 3 gestir · 2 rúm · 1 baðherbergi
Hip and Cozy King Studio. In town. Across from Lifts.
This super cool condo is in the heart of it all. It's a perfect home base for everything Breck has to offer. Cross the street to the lift and afterwards: cozy up by the wood fire, jump in the hot tub, or have a margarita in the restaurant downstairs! Please note: hot tub is closed due to COVID until further notice.
Það sem gestir hafa að segja:
"Hafði svo frábæra dvöl í Breckenridge! Staðurinn var fallegur og fullkominn fyrir nótt á fjöllum. Innritun og brottför var gola og hafði allt sem við þurftum. Verður örugglega áfram!"
Lovely wood cabin with beautiful views of the Mosquito Range mountains (including Mt. Sherman, Mt. Pennsylvania) from deck. Great hiking, skiing, cycling, and fishing (including the South Platt) nearby. We welcome people from all backgrounds, children, and pets. Close to National Forest. Perfect spot for families or couples looking for a secluded getaway or a group of friends wanting to spend the weekend hiking or skiing.
Það sem gestir hafa að segja:
"Mjög fallegt. Nálægt fullt af skemmtilegum útiveru. Í skóginum, undir lok vegarins, lítil umferð, fáir nágrannar. Ekki stórt íbúðarhúsnæði. Fínt hús. Litlir aukahlutir eins og sjónauki, hjól, kolibrandi fóðrari, göngustafir osfrv. Baðherbergi sem fylgja vel."