Sláðu inn dagsetningar til að sjá heildarverð. Viðbótargjöld leggjast við. Skattar geta verið lagðir á.
My place is good for couples, solo adventurers, and business travelers. HUNTERS WELCOME! Fenced yard for your bird dogs! Contractors looking for a place for an employee to stay other than a motel room? This is perfect! Out of town seminar or workshop? Stay here and have some elbow room. Relax with fellow travelers, fix yourself a homemade dinner, kick back and enjoy yourselves! Brush and the surrounding area have many events and happenings all through the year.
Two bathrooms! Comfortable beds with clean linens and lots of closet space and dresser space! Quiet.....Clean..... TV! WiFi! Kitchen is set up for your cooking skills! Wash your clothes and dry them too! Queen size bed in master bedroom and double bed in the other bedroom. THE WHOLE HOUSE! :-) Fenced back yard open for BBQ in the Spring and Summer and of course into the Fall, weather permitting..... I will be available if there is a problem or a question. Since I am not there at the house I will not personally be there to greet you but do not hesitate to contact if there is a concern.
If you are a hunter you will have small game hunting, large game hunting, goose, dove, duck, and pheasant at the times that are set forth by the Department of Wildlife. Be sure you are aware of the Rules and Regulations governing these types of sports. There are fishing spots for the fisherman within a 50 mile radius.
Tegund herbergis
Allt heimilið/íbúð
---
Tegund eignar
---
Fjöldi gesta
4
---
Svefnherbergi
2
Brush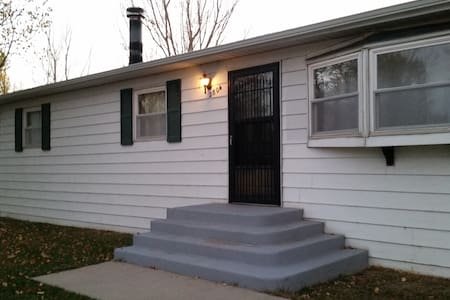 The Sedgwick Antique Inn has 14 bedrooms available in the historic bank building. Our guests tell us this is a wonderful place to stay. Please stay with us as long as you wish.
Lots of space and lots of room to let your imaginations flow. Guests have access to the whole building... We love to connect before, during and after our guests stay with us.
We walk the streets at night. You will be safe in our friendly little town. We have the Jumbo Reservoir 5 miles west of us. Fishing and hunting is abundant in our area. Keep in mind we are a small town with a bar and a dispensary across the street. Walk, ride bikes, etc. We have a new restaurant right next door.
The place was quirky and charmingly strange. The furniture is antique and clearly taken from a variety of estate sales and yard sales. Lupe is a lovely host and gives a good tour of the house. I went across the street to the bar and drank $1.25 Coors on tap while local Broncos fans caroused. Breakfast was lackluster.
Vince
September 2015
This place was so easy to find, even at night, after a long drive. Lupe was a great host, the place was very interesting. Good for the price. Bathrooms could be more updated and more clean.
Bethany
October 2015
Get ready for an eerie adventure in a random Colorado town with a population of 150. Don't show up at night, as the town seems deserted. It's right across from a dispensary and when we showed up there were people smoking downstairs. You're definitely sleeping with spirits when you're there. There is a lot of history in the building. Simple breakfast with a squeaky bed.
Emily
September 2015
Go here. Do it. Well worth your time. Excellent experience.
Dylan
April 2016
Sedgwick's about to blow away, but I enjoyed my stay in this neat little town. At the Inn, Tracy made Rugby and me feel at home. That's really wild about you being Leslie's sister. Small world.
Scott
March 2016
I felt very welcomed and the communication with Tracy was great. I arrived at night, when there was an impending storm. I was the only one staying at the Inn, and it was a bit spooky. But otherwise, my stay was good and I'm sure in the daytime, the Inn is lovely and inviting. I had to leave early the next morning and so I didn't get to see the town.
Hannabah
March 2016
We received wonderful hospitality on this our first Airbnb experience. She stayed up to meet us for our late arrival and even had some popcorn waiting for us. This property is such a unique venue, we really enjoyed our stay.
Jeffrey
November 2015
Tracy met us at the door. She and Stephen were charming and friendly. They showed us around the Inn , told us how they started, and gave us our choice of available rooms -- particularly nice since the rooms are all unique. The accommodations were comfortable, the town is tiny, quaint, and deep in the Colorado plains. The stay was lovely. It's a great bargain and I'd recommend it to friends.
Jeff
December 2015
Tegund herbergis
Sérherbergi
---
Tegund eignar
---
Fjöldi gesta
16
---
Svefnherbergi
1
Sedgwick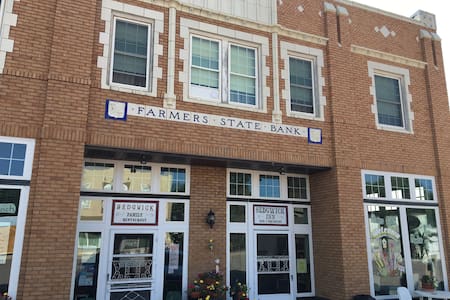 Two acres on the beautiful eastern Colorado plains. There is quiet serenity that abounds here! Room to park large vehicles, and hunting opportunities nearby. We are located a short drive (10-15 minutes) from Jackson Lake and approximately one hour northeast of Denver.
The space includes the entire finished garden level basement of my home. There is a living room, bar that includes a sink, refrigerator, microwave and Keurig coffee maker, a private bathroom with a shower and the bedroom with two beds. There is also a futon in the living area for additional guests. We can accommodate up to six people. Please be aware, there is no air conditioning in this space. Guests may access the entire downstairs area of the home. I'll be available sometimes to help answer questions or offer suggestions for things to do in the area.
We live in a very rural area, so if you're looking for peace and quiet or hunting accommodations we're available! Our home is approximately 15 minutes from Ft. Morgan, Colorado. There is no local public transportation. We have one well-behaved dog.
The host canceled this reservation 4 days before arrival. This is an automated posting.
Michael
Tegund herbergis
Sérherbergi
---
Tegund eignar
---
Fjöldi gesta
6
---
Svefnherbergi
1
Weldona