Skráðu innritunardaginn á forminu dd.mm.áááá
Skráðu útritunardaginn á forminu dd.mm.áááá
Eignir sem þú getur bókað án þess að bíða eftir samþykki gestgjafa.
Sláðu inn dagsetningar til að sjá heildarverð. Viðbótargjöld leggjast við. Skattar geta verið lagðir á.
Núna í júlí og ágúst getur þú gist á einu þessara 100 heimila, sem hafa hlotið hæstu einkunn og eru í öllum verðflokkum, þannig að þú getir upplifað Sonoma með augum heimamanna. Hægt er að innrita sig allan sólarhringinn, nota hraðbókun og njóta léttvína og snarls úr héraðinu. Slakaðu á og njóttu ferðarinnar.
Wake up to the sound of Mustangs and enjoy an eye-catching South-Western view in a traditional Navajo Hogan located in the heart of the Navajo Nation ! 30 minutes north of Canyon de Chelly and 60 minutes south of Monument Valley. The one-room, dirt floor Hogan sleeps two and has no running water.
This is an extremely rural setting where you can really get off the beaten path on the Navajo Nation. The hogan has a traditional sand/dirt floor, an east-facing door, and is extremely peaceful, private and quiet. Since I have no running water, this means there is no bathroom. There is, however, an outhouse adjacent to the hogan. There is a queensize bed for sleeping, and a twin-size air mattress for additional sleepers if you give me advance notification. Basically, you want to come equipped for car or lean-to camping, and you will be pleasantly surprised by how much more comfortable it is than camping! Guests have access to the land for extended hikes and are welcome to visit the horse corral and hang out with my dogs. Please do not feed the animals, and please take basic safety precautions (when hiking: water, cell phone, allergy medicine, sun protection). There is a mini-fridge, Coleman camp stove, coffeemaker, and microwave in the hogan as well as cooking utensils, cutting boards, washing water, a bowl to wash dishes in, and an electric space heater. Intermittent wireless internet available in hogan. There is an outhouse but no bathroom. Also, in the summer there is a fan and two windows for cooling down (we're at high elevation so it cools down considerably at night, even in summer). In the winter, there is a wood stove for heat and cooking, Firewood will be provided during the winter season. Since there's no running water in either the hogan or the main house, the closest place to take a shower is 30 minutes south in the town of Chinle at the Chinle Aquatic Center ($1). Operating hours are: M & W, 6-7:30 am, 11am-1pm, and 6pm-8pm. T & Th: 6-7:30 am, 11-1, 5 pm-8 pm. Fridays: 6-7: 30 am, 11-1. Closed Saturdays and Sundays (always call ahead to verify they're open: (phone number hidden)). The Chinle Chapter house also has showers available for a small fee (M-F, 8-11:30 and 1-4:30).
I love that the nearest neighbor is 1 mile away! The night sky is *incredible* up here on Carson Mesa, as are the sunrises and sunsets. Experiencing Canyon de Chelly National Monument--the only national park on tribal trust land where tribal members live and farm in the canyon--is a must. Attending a local rodeo, country western dance or going to the flea market (swop meet) on Fridays in Chinle also highly recommended (best place for mutton stew, green chiles, tortillas, fry bread, navajo jewelry, traditional teas and medicines, etc.)! Finally, tune in to AM radio, especially KTNN AM 660! There are three amazing Navajo-language, country-format AM radio stations (AM 660, AM 930, AM 1330 on the dial), and you'll learn a lot about local events, dances, community issues and the Navajo language by listening to it. Enjoy your travels across Navajoland! Public transportation is very limited, however there is a bus, Navajo Transit, that will take you from close to here (along route 59) to Chinle once a day for $1. Parking is included and you may park inside the perimeter fence adjacent to the hogan. The area is at high elevation (6500 feet above sea level), which means in the summer it's hot in the daytime and quite cool at night. Conversely, in the wintertime it snows and can be quite cold (woodstove and wood supplied in wintertime). You will need to bring your own drinking water, hand sanitizer and/or wipes, and headlamps or flashlights for trips to the outhouse are recommended.
Arlondo est un hôte formidable et très accueillant. C'est une experience unique dans un veritable hogan en plein désert. La vue et l'atmosphère sont extraordinaires. Attention le confort est spartiate (pas d'eau courante, pas de douche), mais amoureux d'authenticité, vous serez conquis,
Frédéric
August 2014
The road to Arlondo is a little bumpy, but worth every mile. A great alternative perspective on rez life and a beautiful area to call home for your time there. Arlondo is also a great guy, and the dogs are friendly too!
Travis
September 2016
To have the opportunity to sleep in a shoogan was an honor. Arlondo and his dogs are a delight. The place, the scenery and the experience left me with a feeling of ease and love. The room is clean, efficient and comfortable.
paola
December 2014
A magical experience! The description and positive reviews are on point, this space is a great getaway. The hogan was comfortable, cozy, and although there's no running water you can still manage a wholesome dinner. There is beauty as far as the eye can see both day and night; if you're searching for peace you'll find it here. Arlondo is very welcoming host with wisdom to share; a man worth meeting. His dogs, Lola and Zion, are the companions that make you feel like you're home. +Major plus, there's a tea kettle & coffee machine. Try the Navajo Tea!! +Don't play, you'll want to get there before the sunsets! Not only will you want to catch how the rays hit the mountains but because you can truly have a hard time if you don't. Get the good thoughts! _Mari & Nia.
Mari
March 2015
Le cadre est magnifique ; ne restant qu'une nuit en semaine nous avons juste entrevu notre hôte, très sympathique au demeurant. Jeu de piste amusant pour trouver les toilettes la nuit, malgré la torche fournie. A déconseiller si vous n'aimez pas les chiens omniprésents à l'extérieur mais jamais agressifs Un très bon moment trop bref .
Jean pierre
May 2016
A unique place, so much better than any hotel or motel can ever offer. The landscape around is very beautiful, that alone would be worth a visit, but there's so much more to the experience. Arlondo is very friendly, helpful and relaxed host. Even though he was working at the time we visited, he found time to answer all our numerous questions.
Mikko
June 2015
We showed up on a cooold night in December and found a fire blazing in the small wood stove. The hoghan was warm and smelled delicious, and the soft pink tones of the sand floor instantly made us feel at home. In the morning, the sun streaming through the east-facing door lit the place up. Arlondo was a kind and gracious host and we enjoyed every minute of our stay.
Chad
December 2016
Hi, Yes, it was just what i was expecting for, I did arrive befor sunset, fortunately! Since I was travelling for long I did stay for one night only, arrived around 6 in the afternoon and left by 7 in the morning. I took some pictures at sunset and sunrise. On my arrival Zion and Lola welcome me...
Agustin
October 2014
Tegund herbergis
Sérherbergi
---
Tegund eignar
---
Fjöldi gesta
3
---
Svefnherbergi
1
Chinle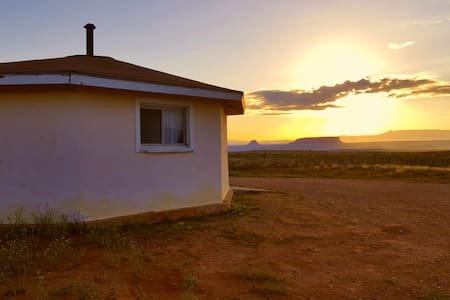 My place is in the middle of Chinle and Many Farms, AZ. You'll love my place because its a quite environment. My place is good for couples, business travelers, plus tourist coming through. We live on a farm, horses and sheep around.
This home as a lot of space living room, large kitchen and dinning area. The home as front deck access and a back door. I am a retired so I will accommodate my guest and welcome them to our home and give some direction while they stay. I will be available.
Our nearby town Chinle and Many Farms has convenient stores/gas stations, laundrymat, grocery store Bashas Market, Ace Hardware, Denny's, Burger King, Churches Chicken, and 3 hotels/motels. The home is also on a personal property and family members lives within the area on our farmland. This is a good tourist environment "Canyon DeChelly", very nice to see "breath taking" canyon. Other surrounding areas for site seeing is Monument Valley, Window Rock, etc. good sites to see on the Navajo Reservation.
Helena made me feel very welcome, she communicated well and often. It's in the country with horses nearby. The space is very roomy and has all the amenities I needed. I would recommend this especially if you have a family or larger group.
Veronica
November 2016
Tegund herbergis
Sérherbergi
---
Tegund eignar
---
Fjöldi gesta
2
---
Svefnherbergi
1
Chinle