Sláðu inn dagsetningar til að sjá heildarverð. Viðbótargjöld leggjast við. Skattar geta verið lagðir á.
My place is close to restaurants and dining. You'll love my place because of Room is located in Route 66 Inn on Historic Route 66. . My place is good for couples, solo adventurers, and business travelers.
The motel was very clean and the staff was curteous. Couldn't have asked for more.
Joseph
September 2016
Clean and nice hostel. Simple but alright
Moritz
August 2016
Nice place to stay in the area!
Kevin
January 2017
Simple, old style motel. I like being able to park my car in front of my room. Clean and comfortable.
John
October 2016
I thoroughly enjoyed staying in this room. It is a hotel on Route 66. It was a very nice room, clean and spacious. The bed was very comfortable--I slept like a baby. I didn't get the chance to meet Mike, but his son was so sweet and made sure I had everything I needed. I highly recommend staying here!
Tracey
July 2016
Not a private home but a hotel. Very good for the price, everything was clean and while it wasn't plush it definitely had all standard amenities ([full-size!] fridge, microwave, tv, wifi). Would definitely stay again if I'm ever stopping in the area again.
Paul
January 2017
Great motel for very cheap! Very happy with our stay and the check in process was smooth as well. Would highly recommend!!
Manny
October 2016
This is a motel by Route 66. A good rest place during the trip. We didn't meet Mike but the staff there were nice and efficient. The place is clean, bed is comfortable and there is fridge and microwave oven. Though it's far from restaurants, there is a grocery store 10 mins away so we were not starving at night.
Sophia
December 2016
Tegund herbergis
Sérherbergi
---
Tegund eignar
---
Fjöldi gesta
2
---
Svefnherbergi
1
Shamrock
Right off I-40 and historic Route 66, come enjoy a stay in our charming home. Great for travelers looking for a cozy place to call home for the night! 2 min walk from a large park & playground, 5 minute walk to Main St. Lovely outdoor space to enjoy meals or a cup of coffee. The town of Shamrock is a special piece of history. Home to the tallest water tower in Texas. Also, the historic U-Drop Inn served as a backdrop in the Disney movie 'Cars.' We also own the local steakhouse, Big Vern's.
Cute little house with all of the ammenities you would need when away from home.
Jacqui
November 2016
Cozy home away from home! Not sure which was my favorite, the house or Big Vern's! Yelp review posted separately for the restaurant though :) we had a great stay at Jackie's house, it was clean and comfortable. My three year old daughter especially enjoyed "the cow bed", a bed with a cow-printed blanket on it. We'd come back for another stay if we ever make it back through Shamrock! Thanks so much.
Simon and Marianna
January 2017
great for quick stop when traveling I-40! also ate at the steakhouse- delicious!
Lauren
November 2016
Jackie's house is huge and comfortable. It was an appreciate stop during route 66. Jackie is very kind and punctual, simply recommended.
Stella
August 2016
Jackie called us the morning sfter my booking to ensure our arrival time. This was a last minute stop on our way home to ensure some sanity and rest for me. Wish we had another day to enjoy the house. It was nice and large for the kiddos to have their own space. Plenty of closet space and ample room in every area of the house. Jackie was out of town and ensured another couple was there to welcome us and show us the house amenities. We had a good dinner at Big Verns. Very relaxing and glad we chose here :) Beds were very comfy.
Trina
August 2016
Great stay if you are rolling through Shamrock! Lots of space, very comfortable
John
January 2017
Perfect rendezvous spot for those who live in Denver and the metroplex. Beds were comfy and Jackie was most gracious. She supplied us with breakfast necessities. Shamrock is a friendly town, providing a good portrayal of the Texas panhandle and former Route 66.
Aimee
October 2016
She was so nice ,We didnot arive till 10 at night tired PLACE. Was clean older home nice paint NICE recliners sitting in the living-room,
Dennis
September 2016
Tegund herbergis
Allt heimilið/íbúð
---
Tegund eignar
---
Fjöldi gesta
6
---
Svefnherbergi
3
Shamrock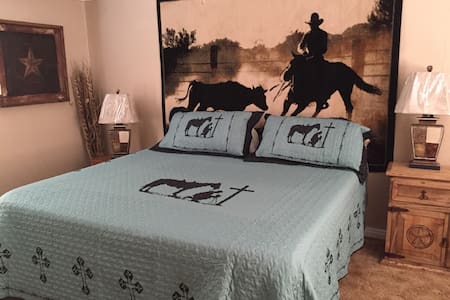 Rustic lodge on private lake with swimming, firepit, campfire, hiking, and covered outdoor cooking facilities. Three miles off Route 66 in Shamrock, TX, home of the U Drop Inn featured in the movie, "Cars". Kayaks, paddle boards, fishing equipment available for rent. No more than 4 guests. Only Airbnb reserved guests allowed on premises.
We are two miles south of the famous U Drop Inn (as shown in the movie "Cars" on the Mother Road (Route 66) which spans across the United States. We have a beautiful lake stocked with several kinds of fish (fishing poles & bait available). Relaxation is in store as you sit around a campfire, watching fireflies dart around. Indoor and outdoor cooking, hiking, kayaking, and swimming opportunities are all available. The rustic lodge is private with front door access to the lake and other amenities. Come and enjoy nature in a calm, quiet setting that is sure to recharge your spirit. Owners are available on adjacent property.
Shamrock is a small, friendly town and is the home of the "U Drop Inn" which was featured in the movie "Cars." Shopping and restaurants are available with antique shops, markets and other stores to serve all your needs. Parking is free. Vehicles can park beside the rustic lodge. The lake is a private lake. Guests do not need a fishing or boating license. The setting is quiet and very private with restaurants and shopping opportunities located a short distance away in Shamrock. RV hookups are available with full access to all outdoor opportunities as described.
Very cool and funky spot down by the river. Cozy but colorful and clean inside. Joe and Judith were super nice and welcoming, and were very accommodating in allowing our dog and two cats to stay, as we were on a cross-country move.
Gina
September 2016
Tegund herbergis
Allt heimilið/íbúð
---
Tegund eignar
---
Fjöldi gesta
4
---
Svefnherbergi
1
Shamrock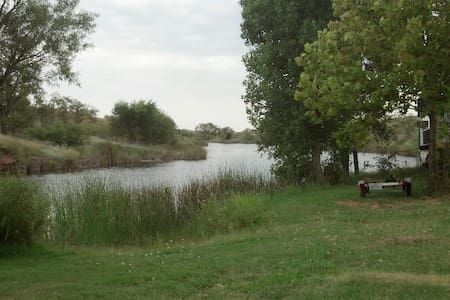 My place is close to restaurants and dining. My place is good for couples, solo adventurers, business travelers, and families (with kids).
The room was very clean and the beds very comfortable.
Andrew
December 2016
What a cool place to stay! Right on the old route 66, such a welcoming room after a long drive. Sleep like a baby and that doesn't even happen at home. The owners are very nice people and are fun to talk to about the area. Hope to stay there again!
Travis & Misty
November 2016
This place is a neat old route 66 motel that has been completely redone. It is very close to the interstate yet you feel like you're not. The area seems to want to attract route 66 enthusiasts. It reminded me of the old hotels we stayed in when I was a kid. The room was very clean. It had a full size refrigerator and kitchen area. The room/bath had all new tile flooring. New carpet near the beds. Wi-Fi was a little tricky to connect to but, it worked great after that. We were returning from a trip out west and needed a place to drop in for the night. Management was very friendly and seemed eager to help. Would definitely stay again. New/old motel.
Marty
July 2016
Tegund herbergis
Sérherbergi
---
Tegund eignar
---
Fjöldi gesta
4
---
Svefnherbergi
1
Shamrock