My place is An Original ROUTE 66 Business, located on Historic Route 66. You'll love my place because of the outdoors space, spacious room and the comfy bed. My place is good for couples, solo adventurers, business travelers, families (with kids). Ample free parking and free WI-FI available for guests. Full Service Bar on premises. PET POLICY, we do have some rooms where we can allow pet(s), $10.00 charge per pet/night applies, to be paid at check-in.
Standard room when booked for 1 or 2 persons is a room with a QUEEN size bed. Guests needing room with a KING size bed, please specify, there is $5.00 extra charge. Guests needing room with 2 QUEEN size beds, please specify, there is a $7.50 charge to be paid at check-in. Room with a Queen Bed and/or King Bed will accommodate up to 2 persons, Room with 2 Queen Beds will accommodate up to 4 persons, Extra person charge will apply.
Tristar Inn Xpress is an older property on historic Route 66, well maintained, clean, quiet and comfortable rooms with all the basic amenities you might need to spend a night or more...each room has its own private bathroom.
I was traveling cross country and stopped in Tucumcari, NM to get some sleep before continuing on. We got in late, but checking in wasn't too much of a problem. The only issue we had was after we had moved everything in to the room, we found that the sink in our room wouldn't drain. Since it was late, the maintenance person wasn't available and we had to pack up everything again and move to another room, in the rain. Our original room had a king size bed, but the only room available to move into had a Queen size bed. No form of compensation was offered for having to move and getting a smaller bed. If not for this one issue, it would have been 5 stars all around. Other than the moving issue, the place was good for what we needed. We needed a clean place to spend the night before doing more driving and this place fit the bill. Check-out was simple as all we had to do was leave the card keys on the dresser and turn off the lights and heater.
Ron
2017-01-23T00:00:00Z
Mike was very accommodating as we arrived 1.5 hours later than planned. I thought I had checked off that we had a pet, but apparently I didn't. Mike was flexible and got us a room that is pet friendly. The room was as listed and we had a comfortable night.
Kathleen
2016-12-06T00:00:00Z
It was a nice motel room. Clean and comfy.
Jo-Ann
2017-01-03T00:00:00Z
This place is clean and a great value. The bed was comfy and we got a great nights sleep. Thanks Mike!
Ken
2017-01-14T00:00:00Z
It is a motel using airbnb.
Debbie Johnson
2017-02-13T00:00:00Z
I stayed here on my way to California, it was a decent place for a great price.
Daniella
2017-02-27T00:00:00Z
This Air BNB is a motel but I loved it. I had a very large room with tv, microwave and bathroom - spotlessly clean and a very comfortable bed. The location was great - on the fringe on Route 66 so I spent all my time walking and taking lots of photos. Great restaurant 5 minutes away, Cinema in town - and the best lot of murals ever. Loved Tucumcari and my accommodation. Mike was very helpful, I did not have a car so he picked me up and dropped me off for the bus - so kind.
alison
2016-11-17T00:00:00Z
Perfect for Route 66 travellers looking for somewhere to crash for the night. Nice and easy, and good value.
Andrew
2017-01-15T00:00:00Z
Tegund herbergis
Sérherbergi
---
Tegund eignar
---
Fjöldi gesta
2
---
Svefnherbergi
Tucumcari, New Mexico 88401, Bandaríkin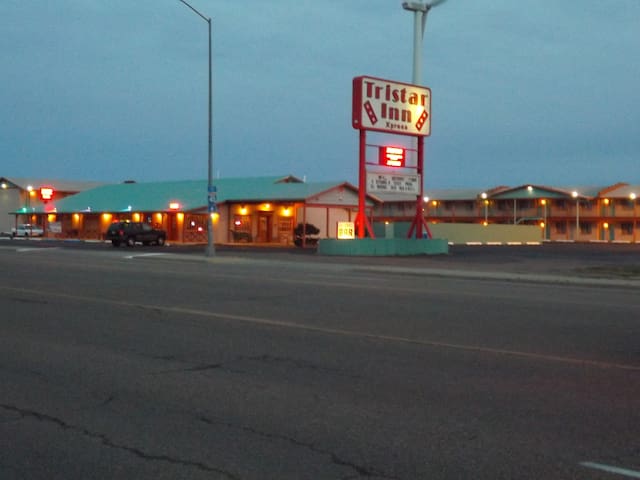 Sláðu inn dagsetningar til að sjá heildarverð. Viðbótargjöld leggjast við. Skattar geta verið lagðir á.