Sláðu inn dagsetningar til að sjá heildarverð. Viðbótargjöld leggjast við. Skattar geta verið lagðir á.
The Prospector Hotel & Gambling Hall is a full service hotel and casino with a restaurant and cocktail lounge. The property is newly remolded with 5 Star amenities throughout, therefore, we are positive you will enjoy your stay with us! See you soon!
Really comfortable nights.
Feifei
November 2016
Awesome hotel. Didn't know hotels posted their rooms on here, but was glad this one did. Enjoyed the pool, fitness room, and the overall atmosphere of the place. Even won a few dollars messing around on a slot machine.
Steve
August 2016
Even though I received a text and an email confirmation listing my stay as being on Monday August 15, 2016 Jason apparently put our reservation down for Sunday August 14 instead. Therefore they were not expecting us on Monday and had no rooms for us! No accommodations were made for us beyond calling the other hotels in town to see if any of them still had rooms. There was no offer made to pay for our room at the other place. It didn't matter that I could show them an email with the right date and a confirmation code, they had already listed us as a no-show, no-call reservation for the night before. And my credit card was still charged (although I'm sure AirBnB will refund my money.) DO NOT STAY HERE!!! THEY CAN'T GET A SIMPLE RESERVATION RIGHT. WHY IS A HOTEL EVEN LISTED ON AIRBNB?!?!? THEY SHOULD BE REMOVED FROM THE SITE.
Andy
August 2016
This is a hotel & casino. The hotel's website showed full but we were able to get a room on Airbnb. Nice room. Big. People were nice and Mexican restaurant was pretty good. Nice stop in Ely.
Deno
May 2016
I wish that it was possible to give 10 stars. We were moving across the west and used The Prospector as a stopping point. I'm so glad that we stayed here. They were extremely pet friendly (both dogs and cats). The casino is a great time and the pool and hot tub are terrific. The best part was our room. The bed was HUGE!! The room was extremely clean and had a nice mountain view. If you're going to Ely you should stay at The Prospector :)
Anthony
July 2016
Meet with a smile, clear information, they were happy to keep my motorcycle under the canopy! Amazing decor throughout! Very Very interesting place. They have created almost a museum of artifacts and paintings everywhere!
Eric
August 2016
Tegund herbergis
Sérherbergi
---
Tegund eignar
---
Fjöldi gesta
2
---
Svefnherbergi
1
Ely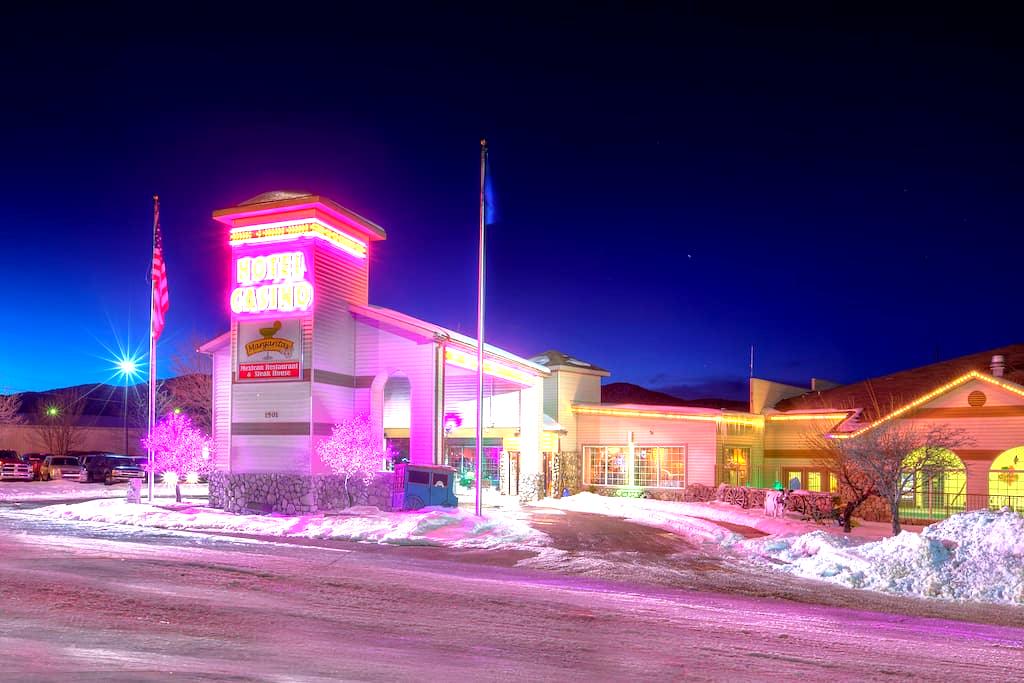 My place is close to Downtown Ely. My place is good for couples, business people, traveling Mine workers and solo adventurers.
Great value and location for Ely activities. Quiet neighborhood and only a short drive to the center of town. House is spacious, clean, and has all necessary appliances and amenities for a short stay. Host is very responsive and helpful--I will be a repeat customer and recommend to others.
TsuTOMu
January 2017
The host canceled this reservation 11 days before arrival. This is an automated posting.
Crystal
Tegund herbergis
Allt heimilið/íbúð
---
Tegund eignar
---
Fjöldi gesta
4
---
Svefnherbergi
2
Ely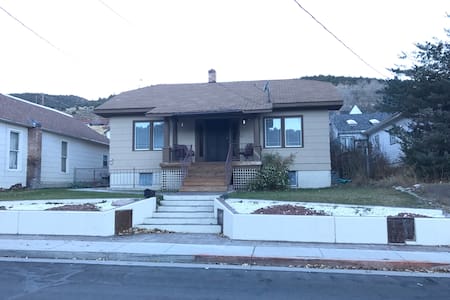 My place is close to Great Basin National Park, Cave Lake, Northern Nevada Railroad. You'll love my place because it can be moved to different locations, just let us know where you'd like it in a 60 miles radius. My place is good for couples, solo adventurers, and families (with kids).
Tegund herbergis
Allt heimilið/íbúð
---
Tegund eignar
---
Fjöldi gesta
9
---
Svefnherbergi
2
Ely
Cabin 20 miles from the Great Basin National Park. Nice deck with gas firepit, 2 BBQs, and a magnificent view. One bedroom, loft, kitchen, and living room. Great wildlife and amazing starry nights. Telescope available for guest use. There is also a hammock available for our guests use.
Approximately a 20 minute quick drive to be at the Great Basin National Park. A lot of wildlife in the area. Beautiful view of Mt. Wheeler from the living room or deck. The night sky is like no other. View the milky way and millions of stars, and watch satellites pass over. Entire cabin 2 Night Minimum Guests can contact us with a cell phone, but not all cell phones have service in this area. 775-293-0527 or 775-293-0073 /email sallygust1@att.net.
Cute cabin conveniently located near Great Basin National Park. Wildlife viewing, hikes into the park to see Bristlecone Pines, glaciers, mountain lakes, and tours through Lehman Caves. The cute town of Baker is located 5 miles from the park. Almost zero light pollution making the night sky amazing for star viewing. This is offered at the Park usually on Saturday night in the summer. You will need to drive 20 miles to get to the Great Basin National Park. There are a small amount of groceries available in Baker, which is 15 miles from the cabin on the way to the Park. Gas is available in Baker. Two night minimum stay. Rate for longer stays, contact us. The loft has a low ceiling and you cannot stand totally upright. Beds are standard size. No gas or facilities for 15 miles. Absolutely no smoking inside or security deposit will not be refunded. Instructions on entering the cabin and a map will be provided when booked.
This cabin was just perfect. Sally and Terry have provided a wonderful retreat for destressing. It is clean and well stocked. Sally went out of her way to make sure that my 'wish list' for our week's stay fulfilled. We arrived to a nice welcome that included muffins and beautiful flowers. Every morning to my extreme delight we were treated to a hummingbird battle. Because of my love of hummingbirds we always bring a feeder with us to enjoy them. Sally had a feeder we weren't aware of beforehand so these little guys were in heaven having two, to feed from. No tv, no wifi, no worries. Our unplugged vacation at the cabin was very rewarding. I would definitely stay at the cabin on a future visit.
Diana
August 2016
What a wonderful experience! The cabin fit our family of three perfectly! The red carpet was truly rolled out with fresh flowers, muffins, bottled water, toiletries, etc. It was clean, comfy and had a great view! Short drive to Lehman caves and great hiking. A great escape from the heat of las vegas for us. We're hoping to come back again!
Jamie
June 2016
It is hard to capture how amazing this place is, especially for the ultra rural location it is in. The house itself was cute and well kept. The views are spectacular and the access to Great Basin is perfect. I am sure we will be staying here again on a future trip across Nevada!
Dale
July 2016
I would highly recommend this property for anyone wanting to explore Great Basin National Park or the surrounding area. It was beautiful, clean, and full of the thoughtful touches that make a stay feel more like home. As there was no tv or wifi, my daughter was particularly pleased with the selection of great movies. The hosts were very easy to work with as well. We had an absolutely amazing visit and would love to return in the near future.
Stacy
August 2016
A great place to stay for our family trip. The cabin was clean, cozy and nicely decorated. I echo all the positive comments made in earlier reviews.
Bret
October 2015
Wonderful cabin. Quiet, private, very warm and cozy. Sally & Terry left me a wonderful note and some delicious muffins for me, and provided amenities such as shampoo and body wash. No internet, so prepare to be off the grid, but that is a good experience especially in today's connected world. View of the stars at night is unparalleled, and is very close to Great Basin National Park (10 minutes). Would stay here again if I visit Great Basin in the future.
Hunter
October 2015
My girlfriend and I stayed here for 2 nights while we explored Great Basin National Park. The cabin is a perfect retreat and just as described. The stars at night are incredible--have only seen stars like this one or 2 other places in the world. Definitely recommend and hope to return in the future.
Luke
December 2015
The hosts made us feel very welcome with fresh flowers and muffins. They have a great deck for watching sunsets and star gazing. Very relaxing and quiet.
Tim
September 2016
Tegund herbergis
Allt heimilið/íbúð
---
Tegund eignar
---
Fjöldi gesta
4
---
Svefnherbergi
1
Baker