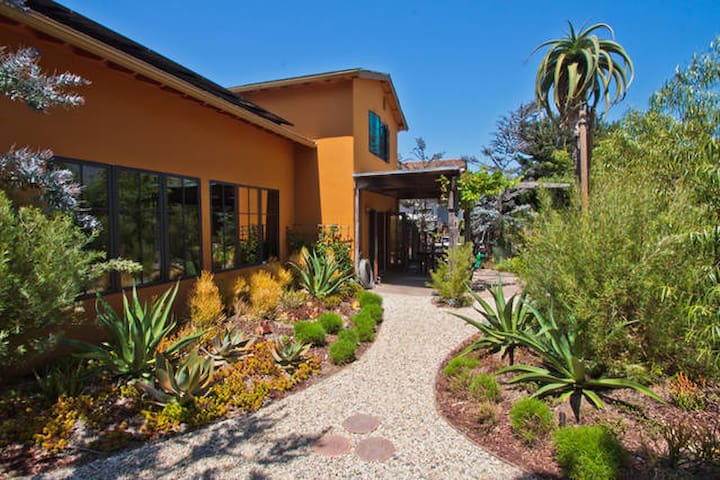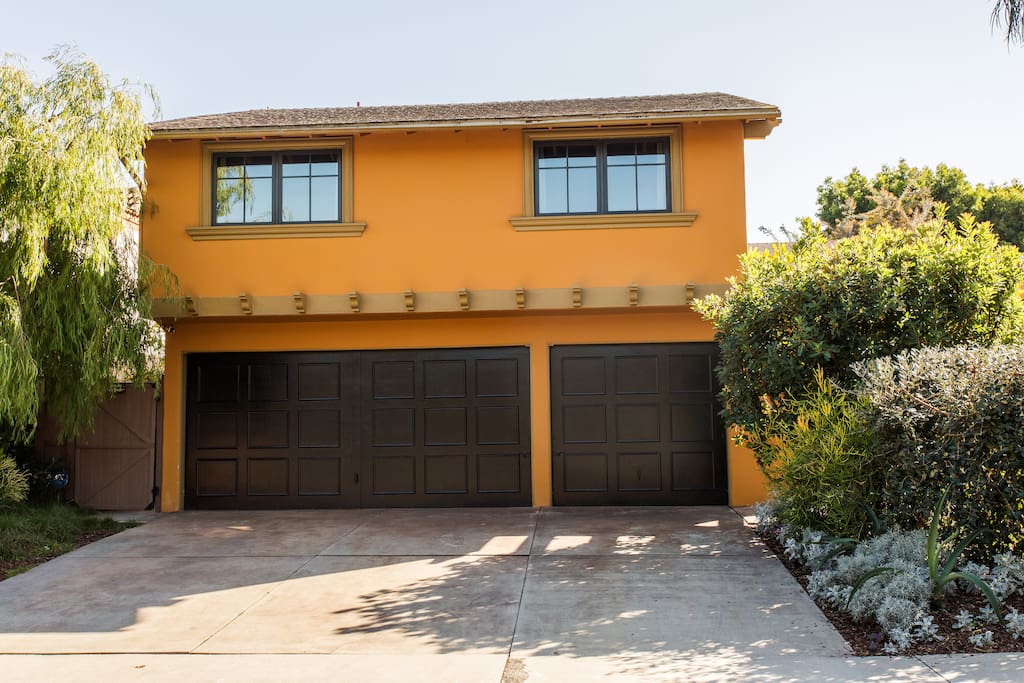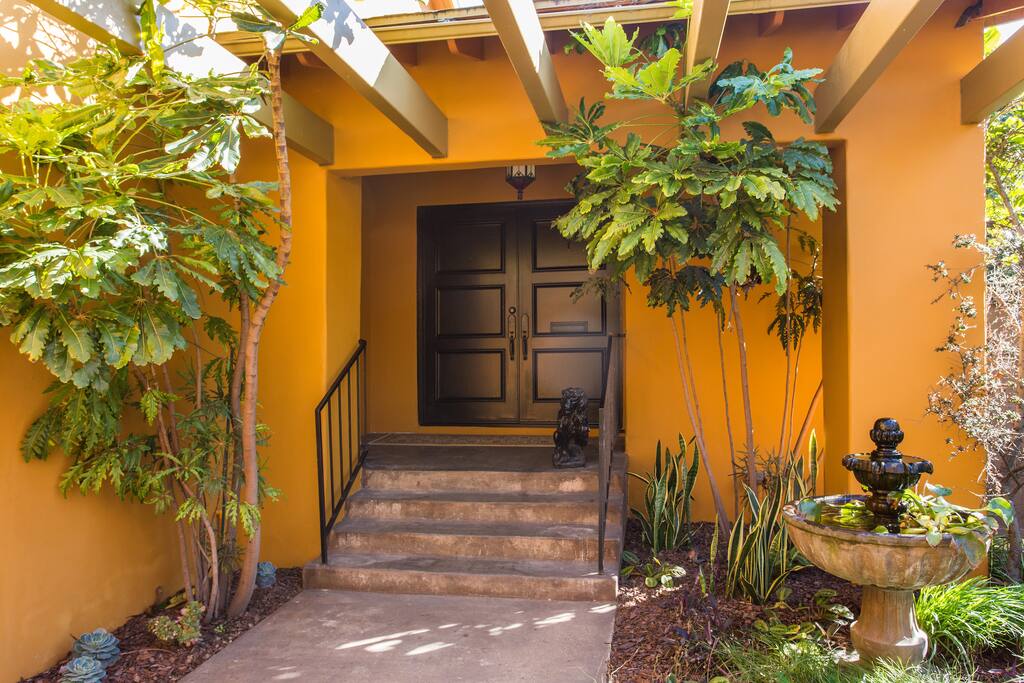 Best Beach Bed Breakfast & Bikes 1
96% 5-STAR GUEST REVIEWS !! * Fyrrverandi þekktur sem Del Rey: Ströndin býr í besta falli Við erum á besta Silicon Beach stað á Ballona Creek hjólaleiðinu, aðeins nokkrar mínútur frá Playa Vista, Playa Del Rey, Marina Del Rey, Feneyjum, Santa Monica, Manhattan Beach, Hermosa Beach, Redondo Beach og önnur South Bay ströndum. Njóttu stakur, rólegur, glæsilegur þægindi af nýuppfærðu svefnherbergjunum okkar og lúxus baði. Auk yummy morgunmat!
96% 5-STAR GUEST REVIEWS!!*
Formerly known as Del Rey: Beach Living At Its Best
We're in a prime Silicon Beach location on the Ballona Creek bike trail, just minutes from Playa Vista, Playa Del Rey, Marina Del Rey, Venice, Santa Monica, Manhattan Beach, Hermosa Beach, Redondo Beach and other South Bay beach communities. Enjoy the discrete, quiet, elegant comfort of our freshly updated bedrooms and luxurious bath. Plus a yummy breakfast!
Eignin
Valin í http://www.airbnb.com/wishlists/secret-gardens! Lifðu eins og heimamaður! Við huga ekki síðustu bókanir, og ef við getum móts við þig munum við og dýrindis veganontan Morgunverður er alltaf innifalinn! Vacationers eru alltaf velkomnir en við fögnum einnig fyrirtækjaskrifstofum og við erum fullkomin heima frá heimili fyrir fyrirtæki sem ferðast! Njóttu okkar meginlands morgunverð frá veganum, sterku kaffi og ekki hika við að vinna í friðsamlegum garðinum okkar með frábærum hratt WiFi! WE HAVE 2 ROOMS! Ef þetta herbergi er bókað eða þú þarft meira en eitt herbergi ekki hafa áhyggjur! Hér er tengill: https://www.airbnb.com/rooms/593991 Alors, Johnny parle un excellent français og habla OK español (fyrir un chico blanco). Merkja talar fullkominn danskur, og OK norskur. Wir sprechen OK deutsche. Við höfum 2 herbergi í hönnuðum sólarorku umhverfisvænni húsi okkar í Del Rey, nálægt Marina del Rey, Playa del Rey, Feneyjum og Santa Monica, bæði með ánni og þú munt líka geta séð Santa Monica , Marina, Century City og fjöllin. Ef þú þarft bæði herbergin (við getum séð allt að 5 í klípu), vinsamlegast vertu viss um að báðir séu í boði (hér er tengill á tvöfalt stórt herbergi okkar, sem er aðeins minni en $ 10 minna): (URL HIDDEN) / Herbergi / (PHONE NUMBER HIDDEN)ðar herbergin deila fullu baði uppi og 1/2 bað niðri. Bílastæði er aldrei vandamál þar sem við bjóðum upp á ókeypis bílastæði utan aksturs í heimavistinni okkar fyrir alla gesti okkar. Þessi skráning er fyrir stærra gistiheimilið okkar með þægilegu Queen bed fyrir 2 (152,4 cm x 203,2 cm). Verðlagning er fyrir einn mann á nótt um helgar og ákveðnum öðrum dögum á árstíðabundnu verði; Önnur manneskja er $ 20 fyrir nóttina. Innritun er kl. 15:00 og útritun er 12 hádegi en þessi tímar eru sveigjanleg innan ástæðu; við munum reyna okkar besta til að mæta þér. Þú munt njóta REAL ókeypis árstíðabundin veganontan Morgunblaðsins fyrir þig, bæði með kaffi, te og safa, og þar eru oft avókadóar, tómatar, gúrkur, melóna, krem "cheez" hummus, bagels, brauð (oft heimabakað), úrval af jams, hnetum og ferskum ávöxtum. Covfefe og heimabrygga kombucha er í boði sé þess óskað. Herbergin deila fullt bað með fallegum vörum og cushy handklæði og spa klæði. Til viðbótar við morgunverðarsprautuna (sjá myndina) færðu frábæran hraðan Wi-Fi (100+ Mbps), náttúruhljómsveit, aðgang að léttri notkun prentara, aukagjald á sjónvarpi (með Spectrum, HBO, Showtime, Cinemax, Epix, Netflix, Amazon og Hulu (allt í boði eftirspurn) og yfir 300 rásir), þvottahús, bílastæði utan götunnar og notkun kjósenda okkar á ströndinni án endurgjalds. * Airbnb segir: "Frábært verk! Að öllu jöfnu hefur þú fengið 5 stjörnur 96% af tímanum. Að meðaltali eru allsherjar nálægt þér 5 stjörnur 76% af þeim tíma."
Featured in http://www.airbnb.com/wishlists/secret-gardens!
Live like a local! We don't mind last-minute bookings, and if we can accommodate you we will and a delicious vegan continental breakfast is always included!
Vacationers are always welcome but we also welcome corporate bookings and we are the perfect home away from home for the business traveler! Enjoy our vegan continental breakfast, strong coffee, and feel free to work in our peaceful garden with super-fast wifi!
WE HAVE 2 ROOMS! If this room is booked or you need more than one room don't worry! Here's the link: https://www.airbnb.com/rooms/593991
Alors, Johnny parle un excellent français y habla OK español (para un chico blanco). Mark taler perfekt dansk, og OK norsk. Wir sprechen OK deutsche.
We have 2 guest rooms in our designer solar-powered eco-friendly house in Del Rey, close to Marina del Rey, Playa del Rey, Venice and Santa Monica, both with a river view and you'll also be able to see Santa Monica, the Marina, Century City and the Mountains. If you need both rooms (we can handle up to 5 in a pinch), please be sure both are available (here's the link to our double-sized room which is a bit smaller but $10 less): https://www.airbnb.com/rooms/593991 ).
Both guest rooms share a full bath upstairs and a 1/2 bath downstairs. Parking is never a problem as we offer free off-street parking in our driveway for all of our guests.
This listing is for our larger guest room with a comfy queen bed for 2 (152.4 cm x 203.2 cm). Pricing is for one person per night with weekends and certain other days at seasonal prices; an additional person is $20 per night. Check-in is 3 PM and checkout is 12 noon but these times are flexible within reason; we'll try our best to accommodate you.
You'll enjoy a REAL complimentary seasonal vegan continental breakfast for you both with coffee, tea and juice, and which often includes avocados, tomatoes, cucumbers, melon, cream "cheez," hummus, bagels, breads (often homemade), an assortment of jams, nut butters and fresh fruit. Covfefe and home-brewed kombucha is available on request.
The rooms share a full bath with nice products and cushy towels and spa robes. In addition to the breakfast spread (check out the picture) you'll get super-fast wi-fi (100+ Mbps), a nature sound machine, access to light use of a printer, premium streaming TV (featuring Spectrum, HBO, Showtime, Cinemax, Epix, Netflix, Amazon and Hulu (all available on demand) and over 300 channels), laundry, off-street parking and the use of our beach cruisers all at no additional charge.
*Airbnb says: "Great work! Overall, you've received 5 stars 96% of the time. On average, hosts near you get 5 stars 76% of the time."
Aðgengi gesta
Húsið okkar er hús þitt! Þú ert frjálst að hanga út við eldskálina og skipta sögum, velja smá örlítið jarðaberja í garðinum okkar í lífrænum þéttbýli, eða bara gerðu morgunbréf eða lesðu LA Times í bakgarðinum með tinkle tjörninni okkar í bakgrunni . Þú ert líka velkomin að elda máltíðir sjálfir ef þú vilt, þar sem við eigum ansi stórt eldhús - stundum eldum við með gestum og borðum saman fjölskyldustíl - en það sem virkar fyrir þig. Við höfum jafnvel annað grill fyrir gesti okkar sem ekki eru vegan. Og ekki hafa áhyggjur: Við erum ekki dæmigerð, ekki preachy vegans, og ef það er kokteilskvöld og þú ert í kringum okkur viljum við elska þig til að taka þátt í okkur. Ekki í skapi að elda? Viltu vera í kvöldmat? Leyfðu okkur að sjá um allt og fáðu fjölskyldu kvöldmat og drykk með okkur og upplifðu ótrúlega veganargerð Johnny er (ef áætlun okkar leyfir). Til að standa straum af kostnaði okkar spyrjum við á mann $ 20 fyrir kvöldmat og $ 25 fyrir kvöldmat og kokteila / vín.
Our house is your house!
You're free to hang out by the fire bowl and swap stories, pick some tiny heirloom strawberries in our front yard organic urban farm or just do your morning emails or read the LA Times in the backyard with the tinkle of our pond in the background.
You're also welcome to cook meals yourselves if you like, as we have a pretty large kitchen--sometimes we cook with guests and eat together family style--but whatever works for you. We even have a second BBQ for our non-vegan guests. And don't worry: we're non-judgy, non-preachy vegans, and if it's cocktail night and you're around we'd love you to join us.
Not in the mood to cook? Want to stay in for dinner? Let us take care of everything and have family dinner and drinks with us and experience Johnny's amazing vegan cuisine (if our schedule allows). To cover our costs we ask per person $20 for dinner only and $25 for dinner and cocktails/wine.
Samskipti við gesti
Við erum mjög heppin að lifa í fallegu svæði með góðu veðri og þú munt deila heimahúsum okkar; Við hýsum aldrei þegar við erum að ferðast. Við elskum að sýna fólki af hverju við elskum LA og við erum hér til að hjálpa þér, og við viljum að þú fáir bestu tíma. Við áttaum okkur líka á að allir hafi gaman af einkalífinu (þar með talið okkur) og við erum sagt frá gestum í dóma sínum að þeir telji okkur gott jafnvægi milli samskipta og einkalífs í húsinu.
We are very fortunate to live in a beautiful area with great weather and you'll be sharing our home; we never host when we ourselves are travelling. We love to show people why we love LA and we're here to help you, and we want you to have the best time possible. We also realize everyone likes their privacy (including us), and we're told by guests in their reviews they think we have a great balance of interaction and privacy in the house.
Annað til að hafa í huga
VINSAMLEGAST, EF ÞÚ NÝJAR AIRBNB EÐA SÉRSTÖK BOOKING: Áður en þú spyrð þig þarftu að hafa fullkomlega þróað og staðfest snið (þar með talið einhvers konar auðkenni og / eða auðkenni fyrir stjórnvöld) eins og við krefjumst þess af öllum okkar Gestir. Vinsamlegast lestu alla lýsingu. Allir þurfa skýra, núverandi og auðkennanlega mynd (það er best ef þú ert par eða ferðast með vini til að fá mynd af þér báðum). Einnig, ef þú ert að ferðast með einhvern, þurfum við að vita hver þau eru og lítið um þau líka. Hey, þetta er heimili okkar, ekki ópersónulegt hótel, svo ég er viss um að þú munt skilja. Vinsamlegast skoðaðu https://www.airbnb.com/help/article/67 til að fá frekari upplýsingar um að byggja upp prófíl með mynd og https://www.airbnb.com/support/topic/201 til að fá frekari upplýsingar um sannprófunarferlið . Við höfum tvær fyndnir og velþroskaðar hundar: Wolfgang, 8 ára gömul Mini Bull Terrier okkar og Hedwig, yfirmanninn okkar, en góður, 5 ára gamall dachshund. Hundar eru alltaf hluti af fjölskyldu okkar, svo vinsamlegast elskaðu hunda. Vinsamlegast, engar gæludýr, (við höfum reynt það og að heimsækja dýr eru bara of ruglingslegt). FILMMAKERS & PHOTOGRAPHERS: Eftir margar, margar fyrirspurnir sem við verðum að birta að við opna ekki húsið okkar til að taka þátt í gegnum Airbnb. Húsið okkar er alvöru hús og við búum hér með hundum okkar og skjóta getur verið mjög truflandi. Ef þú ert alvarlegur faglegur vinsamlegast farðu í gegnum faglega rásir til að hafa samband við okkur. Verð okkar fyrir allt húsið, þ.mt bílskúr, á dag: Live Action: $ 3,500; Enn: $ 2.000.
PLEASE, IF YOU'RE NEW TO AIRBNB OR INSTANT BOOKING: Before you inquire you'll need to have a fully-developed and verified profile (including some form of government id and/or offline identification) as we require it of ALL of our guests. Also please read the entire description. Everyone needs a clear, current and identifiable picture (it's best if you're a couple or travelling with a friend to have a pic of you both). Also, If you're traveling with someone, we need to know who they are and a little about them as well. Hey, it's our home, not an impersonal hotel, so I'm sure you'll understand.
Please see https://www.airbnb.com/help/article/67 to learn more about building a profile with a photo and https://www.airbnb.com/support/topic/201 to learn more about the verification process.
We have two funny and well-behaved dogs: Wolfgang, our goofy 8 year-old Mini Bull Terrier and Hedwig, our bossy-but-sweet 5 year-old little Dachshund. Dogs are always a part of our family, so please love dogs. Please, NO PETS, (we've tried it and visiting animals are just too confusing).
FILMMAKERS & PHOTOGRAPHERS: After many, many inquiries we have to post that we do NOT open our house for filming through Airbnb. Our house is a real house and we live here with our dogs and shooting can be very disruptive. If you are a serious professional please go through professional channels to contact us. Our rates for the entire house, including garage, per day: Live Action: $3,500; Still: $2,000.
---
Gjaldfrjáls bílastæði á staðnum
---
Svefnherbergi 1
1 rúm í queen-stærð
---
Engar veislur eða viðburði
Innritunartími er frá 15:00 til 23:00
We're honest and you be too. We're respectful of you, so please be respectful of us, our other guests and very importantly, our neighbors. This is our home and we want you to feel very comfortable. We never have guests when we're out of town, so if you want to know something, just ask. We're here to help!
*All guests need a full profile with ID verification, a clear, identifiable photo and completed profile which includes telling us who you are, what you do, and a little bit about your life. We also need to know about travelling companions.
*If you're new to Airbnb or haven't made a proper profile it would be great if we knew something about you personally, as you know EVERYTHING about us.
Remember, Airbnb is a social site, and a little friendly info goes a long way. Also if you are traveling with someone it would be better if we had a picture of you two.
*We live in a desert and California is suffering a severe drought. Please do your best to not waste water and electricity. Please limit showering to 5 or 10 minutes, and please, no midnight showers as you may disturb the other guests.
*Please don't smoke inside, but smoking outside is fine. Please don't smoke e cigarettes in the house.
*No additional guests unless previously agreed to; additional guests may not check in before the Airbnb account holder.
*Any early arrivals (before 3:00 pm) and late arrivals (after 11:00 pm) need to be agreed to by us before booking, so please let us know if you have an unusual arrival time so we can see if we can accommodate you.
*We live in a quiet neighborhood. Curfew for hanging out in the backyard is 11 pm on Sunday-Thursday and 12 am on Friday and Saturday. It's OK to duck out for a smoke, but please be respectful of the neighbors and keep voices down after these hours.
*Both guest rooms may be booked during all or a portion of your stay, and you will be sharing a bathroom. We clean the bathroom daily but please do your best to leave the bathroom as clean as you found it. Please be respectful of the privacy and comfort of other guests.
*Close doors softly, especially during quiet hours. Please don't slam your bedroom door or bathroom door.
*If you turn in for the night after we do please check that all ground floor windows and doors are closed and locked.
*Please be very careful with our house keys. We give keys to Airbnb account holders only. If you lose the keys or fail to return them we will immediately re-key the door at your expense.
*We're as terrified of bed bugs as you are, so please, absolutely no luggage on the beds. Luggage goes in the closets on the luggage racks. All beds are completely stripped and washed after every stay, the pillows run in the dryer on high, and both the mattresses and box springs are bagged.
*If you borrow our bikes you are responsible for damage or theft, and you are solely responsible for any damage to property or injury to yourselves and/or others. You'll need to provide your own safety gear (so please bring it with you) and you MUST sign a release before you take the bikes out and return by nightfall. Our bikes are almost new, so please treat our bikes as your own. Ride safe, have fun!
*Our sheets and linens are of high quality. If you use a hair coloring, lotion or oils that stain them you will be responsible for replacement costs.
*We will hold you to our published cancellation policy and it will be handled automatically by the Airbnb system, so please be sure before you book. If you need to cancel you need to contact Airbnb. We do not accept re-booking by guests that cancel (except under extenuating circumstances), so please check with us if you have cancelled in the past and want to stay in our home.
*We reserve the right to change at our discretion any reservations (including instant book) over 7 days in duration from to moderate to strict cancellation policy rules.
*For your protection and ours, we don't accept or extend reservations outside of the Airbnb system.
*Most of all, have fun, enjoy our home!
Þú þarft einnig að staðfesta að þú vitir af:
Það verður að nota stiga - Our house is split-level and the bedrooms are upstairs.
Í eigninni eru gæludýr - We have 2 friendly well-trained and hilarious dogs so it helps if you love dogs!
Sum rými eru sameiginleg - You'll share the upstairs full bath and downstairs half bath with the other guest(s) and it's never a problem as we thoroughly clean daily.
---
Johnny & Mark have a really beautiful house (btw super comfortable bed) and lovely dogs. They're very nice and friendly. Before we even start our trip, Johnny send me a very detailed and helpful travel plan. When we were arrived, they gave us a lot of food, travel and outlet suggestions. And Johnny setup the fire in the garden and shared a great beer and wine for us, giving us an enjoyable time. It's a great experience!
---
Johnny and Mark were a joy to meet - interesting, funny and very hospitable. Their characters are reflected in their beautiful home and I felt really lucky spending the first two nights of my trip with them. Their home is in a fab location and it's a wonderful, eclectic mix of stunning art and furniture. It feels luxurious and opulent, but still warm and welcoming. They really get the whole 'hospitality' bit from talking you through how the front door lock works, adjusting the bike so it's perfect for your ride down to Venice Beach (with clear instructions how to get there of course ) to bringing you the newspapers with your delicious breakfast of freshly cut fruits and artisan breads. Probably the icing on the cake for me was Wolfgang, their gorgeous dog - I had a real soft spot for him, and I think he felt the same Wonderful hosts, I hope I get to meet them again someday
---
Our stay with Johnny and Mark was a beautiful experience, they were fun and kind enough to even invite my partner and I to share a wonderful dinner with them. Their home is clean and welcoming. They have a beautiful collection of art and as an artist myself that was a very nice added bonus. My partner and I are vegan and Johnny and Mark prepared a fabulous vegan breakfast every morning. Each morning of our stay we had the pleasure of enjoying breakfast outside in their little backyard oasis. Johnny and Mark also had a couple of bikes that we got to enjoy. This was our first trip to the LA area and Johnny and Mark helped make it a real pleasure. Thanks again for sharing you wonderful home! David and Kathy
---
Jonny and Mark are awesome hosts! Mom and I had a great time and walking around the neighborhood was a great experience. Pleasant yard, rooms full of great taste arts, clean kitchen/bathroom, wonderful conversations, absolutely DELICIOUS vegan breakfast what can you expect! My Shanghainese mom just fell in love with avocado ever since. Best of the best!!!
---
Marina del Rey, Kalifornía, Bandaríkin
Skráði sig júlí 2012
We're Johnny and Mark, a super-fun, committed (25 years and counting) and married gay couple in our 50s. We live on Ballona Creek in Del Rey, 3.5 miles from the gorgeous Pacific Ocean. We share our beautifully and recently renovated home with our hilarious and well-behaved dogs W…
Tungumál:
Dansk, Deutsch, English, Español, Français, Norsk
Svarhlutfall:
100%
Svartími:
innan klukkustundar
Kannaðu aðra valkosti í og í nágrenni við Los Angeles
Fleiri gististaðir í Los Angeles: